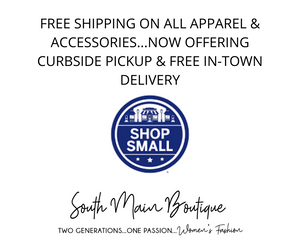 $5.00 FLAT RATE SHIPPING ON ALL SALE ITEMS
About Us
We are a two generation family-owned business whose passion is women's fashion. We believe every woman should be able to look as beautiful on the outside as she feels on the inside. Our sizes range from XS to 3X. We strive to provide the best customer service possible.
DID YOU KNOW that you can make an appointment for a VIP session after hours or that you can book a special showing for you and your friends!!! We will even come to your town for a special pop-up event. Just message or email us for details.
And, be sure to visit our site often because we have new arrivals weekly. Follow us on Facebook at South Main VIP and Instagram at SouthMainWV. Also, sign up for our notifications and our newsletter to become a
South Main VIP!
Apparel, Accessories & Gifts
---
This is US
Two generations...One Passion...Women's Fashion
Meet Kathy Williams and her niece, Jessica Williams Pickens.
Together we buy the latest fashion for all ages. This is a pic of us at market. Crazy, fun times deciding what will be the hottest items for each season. We love fashion and want all of our customers to feel fabulous in what they are wearing. We value each of you and truly appreciate your shopping with us!!!
Kathy & Jessica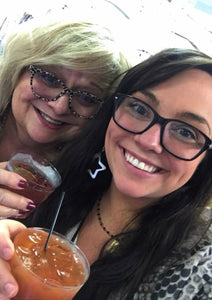 Contact Us
South Main Boutique is located at 310 South Main, Water Valley, MS 38965.
Our boutique is open Thursday & Friday 11 - 6 and Saturday 10 - 3.
And of course, 24/7 on this site.
Phone number is 662-473-6460.
Email us at southmainwatervalley@gmail.com.
Follow us on Facebook at South Main VIP and on
Instagram at Southmainwv.
To book a special showing or a pop-up in your town, send us an email.
Return Policy
Our goal is for you to LOVE your purchase.
If something doesn't work, simply send it back and we will gladly issue you a shop credit.
We ask that you return the item as soon as possible but, no later than 14 days from date of purchase. All tags should be attached and all paperwork included for proper crediting.
All sale items are final sale.
Thank you!